Students worked in groups, each focusing on specific topics at various scales. Through a collective design process, in which they questioned their own assumptions and received feedback from others, they developed a wide range of design proposals and other ideas.

Through discussions and collaborations with other groups, shared interests and topics started to emerge. Students were challenged to confront their own position with the key issues and values they identified as a group. Which topics are addressed, and which not? How do groups relate to each other? What are the overarching ambitions and intentions of the studio? And how can projects better respond to local conditions? The following list is a first attempt to describe the shared topics, or hashtags, and to link the student projects to each other and to Piraeus.
Scroll down to explore the topics
#supporting local initiatives
#investigating flows
#integrating infrastructure
#using what is there
#nurturing urban ecotones
#destabilizing hierarchies
#making space public
#supporting local initiatives
The ferry terminal of Perama with a periptero, the Greek equivalent of a newspaper kiosk and a lively meeting point in any neighborhood.
Piraeus is home to local branches of global brands and large foreign companies, including a French call center operator and Chinese shipping company COSCO. They attract a lot of attention from the media and from local authorities. At the same time small local businesses are struggling to stay alive. How can design and dialogue empower small scale local activities, organizations and businesses?
#investigating flows
Migrant families living in temporary housing units right in front of the container terminal in Perama, next to Piraeus, which is majority-owned and operated by Chinese shipping company COSCO.
The port of Piraeus, with its container, cruise and car terminal and related services, is an important gateway to the EU. Consumer goods from China, fossil fuels from Gulf countries, migrants from the Middle East and Africa: they all pass through Piraeus. How can a better or deeper understanding of these global flows - of people, goods, fuels, data, capital, etc. - help us to improve local conditions and explore alternative futures?
#integrating infrastructure
View from the Stavros Niarchos Foundation Cultural Center, designed by the architect Renzo Piano, towards Faliro Bay along the coast south of Athens.
Piraeus forms a patchwork of neighorboods, port areas and industrial zones, separated by roads, rail tracks and other infrastructure. While connecting Piraeus to other cities and countries, this infrastructure creates barriers and boundaries between neighborhoods, the sea and surrounding areas. How can we better embed these larger scale structures and systems in the urban fabric? And how can (rail)roads connect different parts of the city instead of dividing them?

#using what is there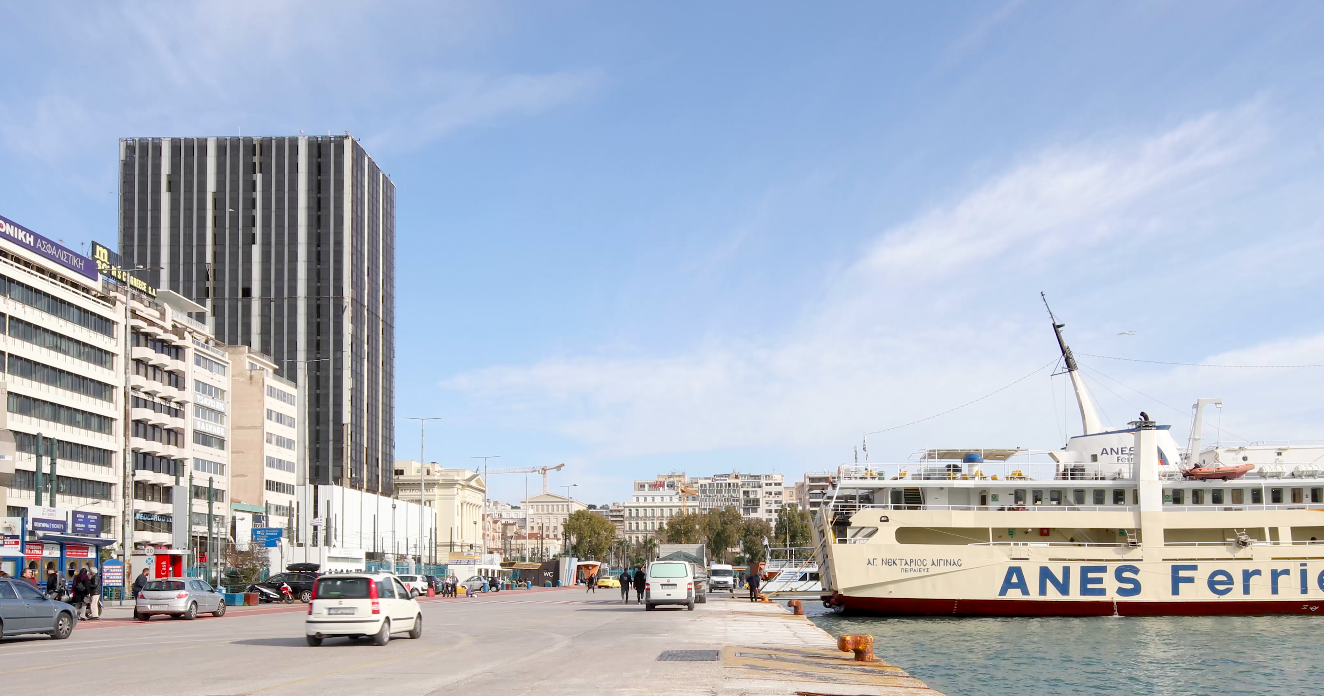 The Tower of Piraeus, the tallest building in Piraeus, which was abandoned more than than 40 years ago and still lies idle despite numerous redevelopment plans.
Like many other Greek cities, Piraeus is still suffering from the (ongoing) financial crisis and faces a lack of resources. Unemployment, disinvestment and a shortage of affordable housing are all pressing issues. At the same time there is an abundance of space and other material and immaterial assets. How can we make better use of local resources, from abandoned buildings and vacant lots to salvaged materials and unused skills?
#nurturing urban ecotones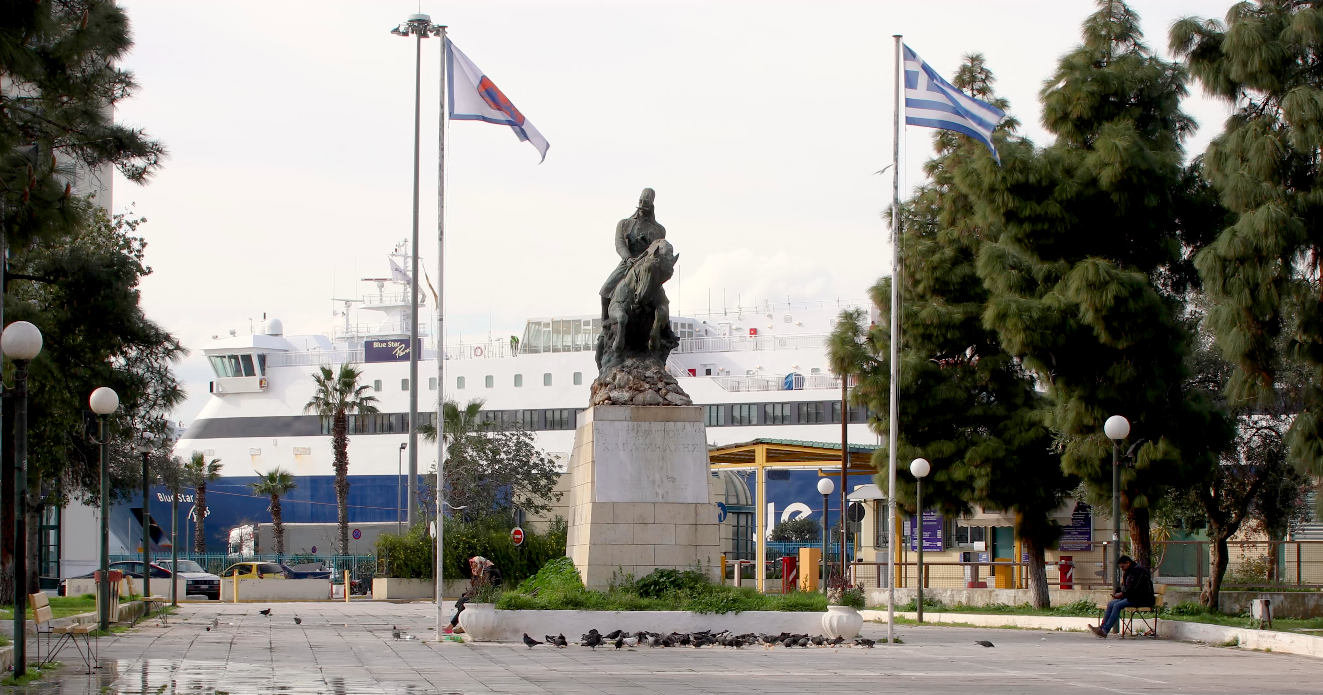 Karaiskaki Square in the port of Piraeus, a green pocket in an asphalted environment, with a statue of General Georgios Karaiskakis who led the fight against the Ottoman Empire in the Greek War of Independence.
Large parts of Piraeus are gradually becoming an hostile environment for humans and non-humans alike. A combination of drought, floods, air pollution, coastal erosion and other natural and man-made hazards make life along the Saronic Gulf increasingly difficult. Future urban developments need to adapt to and help mitigate this climate crisis. How can we create better conditions for co-habitation of a diverse mix of people, plants and others?

#destabilizing hierarchies
The Stavros Niarchos Cultural Center includes facilities for the National Library and the National Opera, as well as a 210,000 m² public park on its roof. It was funded by the cultural foundation which was established to honor Greek shipping magnate Stavros Niarchos.
Piraeus is a predominantly working-class city. However, the local economy is still dominated by a small group of Greek shipping magnates and foreign investors. New developments should consider this growing imbalance and find ways to leverage private wealth for the public good. (How) can economic dependencies and inequalities be turned into a win-win situation for both private and public interests?

#making space public
Basketball court on a former industrial site in Keratsini-Drapetsona, to the west of Piraeus, with COSCO's container terminals in Perama in the background.
Piraeus and neighboring municipalities are situated along the Aegean coastline. Amidst the cargo and passenger terminals, there are only a few places where people have unrestricted access to the sea. In general, the urban area lacks public spaces, such as parks and promenades. How can new developments open up privatized and inaccessible parts of the city to public life?

Filmstillss by Maxime Delveaux