Golden Piraeus
Faliro Bay is very fragmented. On the one hand, the bay is divided into four municipalities: Piraeus, Moschato, Kalithea and Faliro. The borders were drawn by the rivers Kifisos and Illisos and are still visible today with the highways built over them leading to the north.
...


There is also a road that runs parallel to the water and separates the residential area from the waterfront. On the other hand, the area is designed with several large projects, each with its own park.

But the area will get a big construction which will cover part of the highway and replace parts of the old Olympic complex. It is an important recreational area and is linked to important buildings such as the Stavros Narchios Foundation and the Olympiakos Piraeus Stadium.
V2 Development in Neo Faliro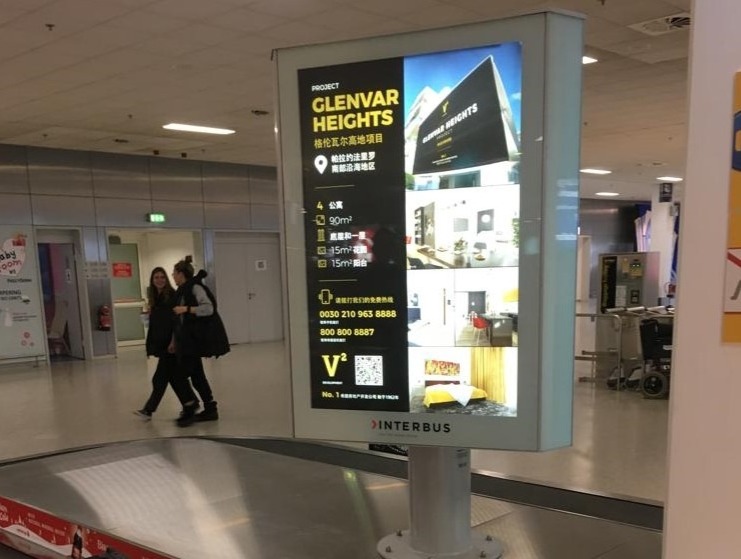 Faliro has bigger roads and a wide grid. Is a blooming neigbourhood with many schools. Due to its clean condition it is the aim of many investments.
...


V2 is a smart real estate company calling themselves "number one". They buy older properties and upgrade them. They focus on a "luxury" image with their black glass balcony railings and white walls.

They rely heavily on advertising. this can be found both in front of and on their own houses, on posters and illuminated signs at Athens airport. This is mainly due to the strong connection with the Golden Visa programm.

Information about Golden Visa and V2
It's a place of big diffrences. On one hand it's a lively neighbourhood with small allies, neat ensembles with potted plants, straying kittens ruins and unfinished buildings.
...


On the other hand it also contains luxury apartments and villas and fancy cars. Due to the topography the hill side offers a breathtaking view far out to sea.

You're close to the historical centre of Piraeus and the modern glamour of the Faliro Bay.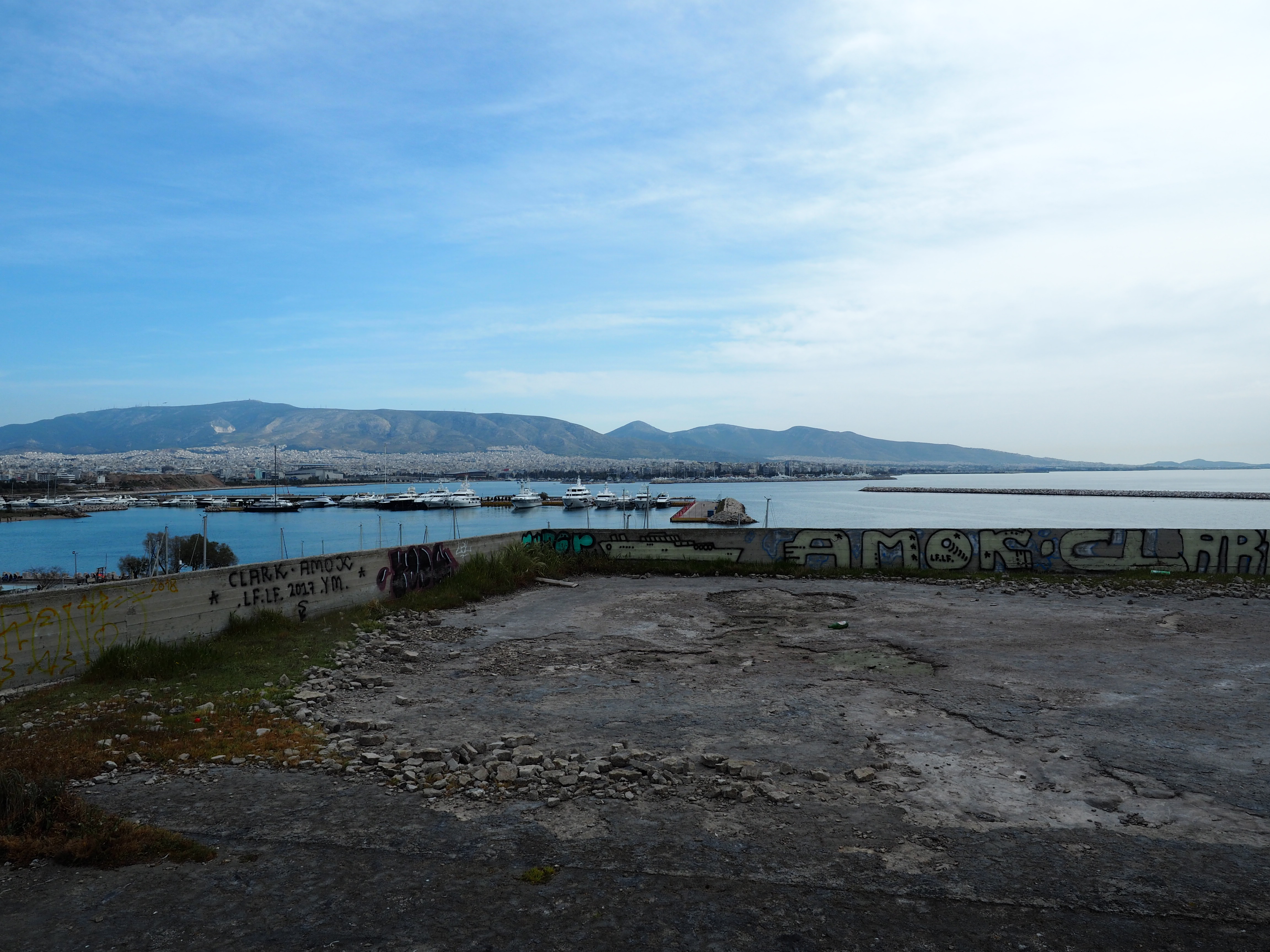 The building caught our eye with its modernist design but unfinished look. In a way it is or could have been a part among glamorous buildings along the Faliro Bay.
...


Located on the base of the Castella Hill, being close to the historical centre of Piraeus and the modern glamour of the Faliro Bay, it also resembles a big unfinished villa. With the pictures of the buildings in Faliro in our heads, which had been upgraded through investment, we began to fantasize.

Rebuilding and operating the Cultural Centre through the money that flows into real estate from foreign investors applying for a Golden Visa, is illustrated on our website, as a fictional possibility.
Seeing the process of Golden Visa as something interesting with potential, being fascinated by the unfinished cultural centre. Trying to condense all the thoughts floating around these two starting points. But never reaching a point of clarity, of activism, of a clear suggestion of what to do.

some of the images in our process an the final version goldenpiraeus.cargo.site
"We spent all afternoon reflecting on us, our project and the studio. It's difficult to communicate conclusiverly in a message now what exactly is on our minds, but in regard of the final presentation next week, our thoughts concern mainly our project in relation to a coherent conclusion. For both of us, our work this semester feels like a constant sketch of our thoughts and reflections on what we have been investigating, which is not a bad thing in itself. But we are now struggling to have a clear output in front of us that we want to create with our heart and soul. Since it is not, as usual, an architectural design that could inspire us personally, where we know by default that this and that plan still has to be drawn, it is difficult to put our energy into documents and explanations that only reflect our thoughts. We feel extremely distant from the visible of our project, because the project itself is simply the thoughts we have made about PIraeus, Europe, investment, culture, money and value. It is very difficult for us to express these thoughts in a creative, artistic, architectural or any other way.
More concretely about this "visible" aspect of our project: on one hand we have the website, which should take a clear but fictional standpoint on the topics we've been dealing with. On the other hand we have a page on the
newropepiraeus.world
studio blog, which should give a more explanatory and reflective pole to this. We do not want to express an opinion, because it cannot be nailed down. Tobias has an opinion and I have an opinion, we have an opinion today and an opinion, an opinion in relation to this and an opinion in relation to that. Although all those opinions are similar, they can still be very different. So one goal would be to in the end show our own cluelessness and indecision."
As expressed above in the excerpt of a message towards the end of the semester, we have been struggling to to translate our research and thoughts in to a visible output. The website is an attempt to illustrate a potential future which will always seem more appealing to some than to others.
Our project left us with a certain feeling. A similar feeling to that of walking through areas of Zürich, where a lot of investment shows itself as a physical presence in the city. One can be fascinated or disgusted by it, one can find it livable or dead, one can not care about it or one can feel all of that at the same time: