NEWROPE – getting closer while keeping a distance
originally published on the D-ARCH REMOTE Blog by Michiel van Iersel

Here's a summary of the steps that the Chair of Architecture and Urban Transformation,or what we call NEWROPE – Design in Dialogue Lab, has taken over the past few weeks to secure a smooth transition from face-to-face to only teaching, while keeping the idea of co-creation and design in dialogue at the core of our shared endeavour. How can we get closer to Piraeus – the focus of our studio – while keeping a distance?



Co-habitation: people living next to the COSCO container terminal in the port of Piraeus

Collaborative work across scales lies at the heart of our studio, which focuses on the Greek port city of Pireaeus. The aim of our current efforts is to prevent that students will start working individually and in isolation, and continue to produce the collective projects which the students already started prior to the suspension of face-to-face classes due to the Coronavirus crisis. At the same time we realise that it will be a major challenge to keep working together and be able to look after each other when we are spread out across the world (from Paris to Sydney), while working on an inaccessible, Chinese owned port in a part of Europe where none of us lives.

Following the dean's instruction we continue – as good as possible – to have weekly meetings on Tuesdays and Wednesdays, in an online environment. At the same time, the studio team gave students the opportunity to allow their focus of the projects to shift and emphasised that the original assignment cannot be continued without consequences given the changed circumstances. On the contrary, by confronting their initial ideas with the newly gained insights uncertainties, the projects could and should be transformed and even enriched, depending on how the students deal with their situation, and how much they would like to address this change.

We kicked-off the new cycle with a session on Zoom, with all students actively participating. In the coming time we will use Zoom for so-called "sit downs" with individual students and their groups and will experiment with larger, digital "get togethers", or sessions with all students together. We also met online with students from Albania and invited guests from Piraeus, Zurich and other parts of Europe (London, Newcastle and various disciplines (graphic design, digital storytelling, activism) to join us online to provide input and technical support.

Between the "sit downs" and "get togethers" students and the studio team primarily use Slack workspaces and the ETH server to share thoughts, references and documents. Each student group will have its own Slack channel, which allows others to stay informed. All groups will be contributing to shared channels for more condensed weekly updates, general questions and the sharing of other thoughts, references or new situations.


Instagram stories describing the use of online whiteboard Miro

After a collective research on existing tools, we continue organising workshops, in which students can comment on and contribute to the work of others, by using Miro, an online whiteboard that allows students and the studio team to work together in real-time and share and discuss different media files in an intuitive way. We work in and present from Miro together while talking on Zoom and successively sharing screens. To document the process, all groups have been asked to make a weekly 3-minute video (blog) in which they describe e.g. their internal discussions, findings, ideas, challenges, etc. For this purpose we are creating a dedicated channel on video platform Vimeo, which can feed into Miro and Slack.

One important question we are asking ourselves is how we can use this situation to re-think the role of architects and designers in engaging and empowering the people who inhabit and collectively shape the situations and urban settings that are the focus of our studio? How can the work of the students, and the (online) interactions, help the residents of Piraeus and others involved (from the CEO of the Chinese investors who own a majority stake in the port to the people working at a call center, which employees thousands of people from around the world)?

The output of the studio will probably have to shift from physical work (models, installations) to more text, drawing and (moving) image based work. However, we are encouraging students to use materials and tools they have at their disposal (at home), and to be resourceful despite the restrictions. For example, they can use their smartphones to make videos and take photos and ETH offers students software to download for free: https://it.arch.ethz.ch/software-students/

We are currently exploring online formats and platforms for the presentation of the final output of the studio and individual students (videos, drawings, texts, etc.), for example possibilities for video formats such as the One Minutes, digital storytelling with Google maps using Tour Builder or the production of a podcast or online radio and publishing it on Soundcloud. Right now we imagine that everything will come together in an exhibition that will span across various online platforms and media formats and will be accessible for both in- and outsiders. On idea to bring everyone together is to temporarily convert the private spaces of the students, the bed and living rooms from which they are forced to work, into gallery spaces of a fictional museum. The final presentation of the studio mark the vernissage of this virtual-physical museum. Students will provide guided tours.


Recent stories on Instagram: living together in times of Covid-19

We use Instagram for more frequent updates from the studio and to share stories from what we call Newrope: places and people in Europe that are exemplary and inspiring for how we can deal with urban and social transformations, including new tools and methodologies that open up the (design) process to new voices and viewpoints (or what we call 'Design in Dialogue') And we are working with the graphic designers of OK-RM to expand our website to allow us to aggregate, archive and present all the content we generate in various formats, creating an online equivalent of an 'urban plaza' where elements come together and are made public.

We are also starting a book and cine-club to collectively read and watch and discuss movies online. For this purpose we use an open Google Docs file, which allows everyone to access the information, see updates and add suggestions in real-time. We have been using Netflix Party, a new way to watch Netflix with your friends online, to watch and discuss documentaries together. And we started compiling a 'Inspiration for self-study list' with 'things to read, listen to, watch and do', with books, movies, (physical) exercises and other sources of inspiration, which anyone can access and do from home and share via Zoom, Skype, etc.

Despite the difficulties we all have to deal with as a consequence of the coronavirus, we feel that this shift to online teaching, creating and sharing offers an opportunity to test and bring into practice some of the assumptions and ambitions that underlie the Newrope chair, including the need to co-create, re-define borders and develop new connections across geographies and disciplines, hoping that the lessons we all learn will outlive this crisis.


Michiel van Iersel
Program Lead

NEWROPE- The Design in Dialogue Lab
Chair of Architecture & Urban Transformation


Screen shot of one of the student projects on Miro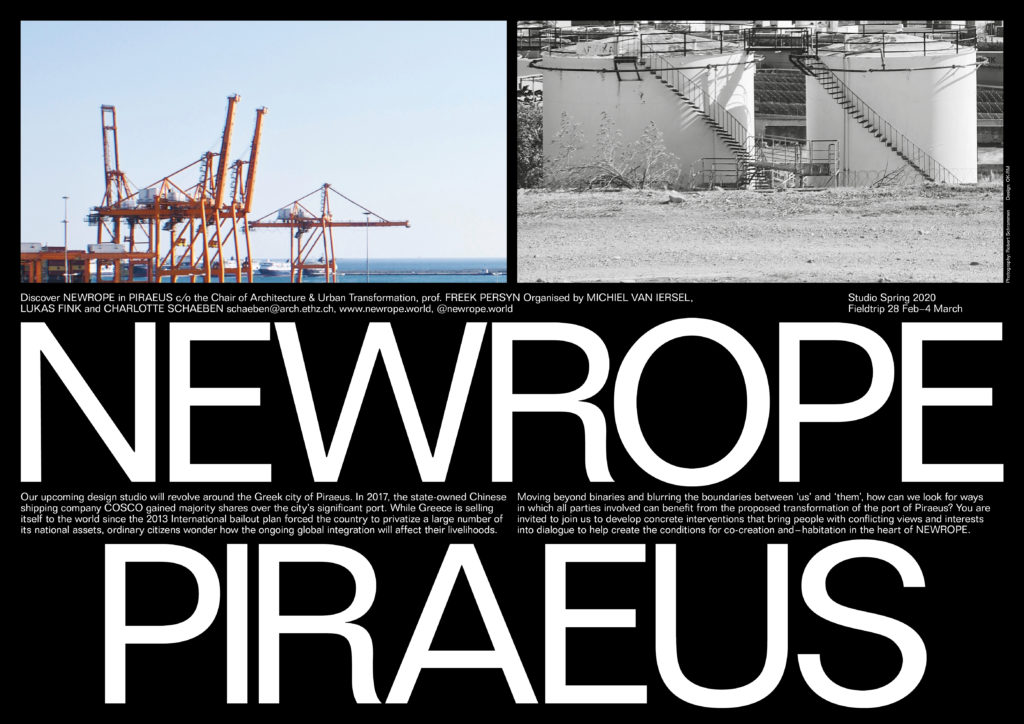 Poster announcing the Piraeus studio